EMPATH'S SURVIVAL GUIDE CLASS
September 19, 2022 @ 7:30 PM

-

9:30 PM

EDT

$13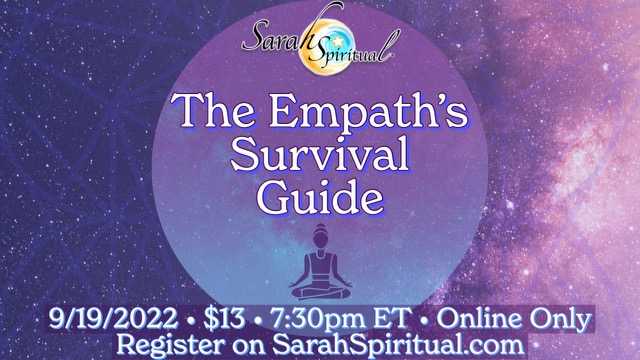 Are you an Empath? Would you like to learn how to use your gift while making sure you're spiritually protected?
JOIN ME
Monday, Sept. 19; 7:30 PM; $13
7:15 PM Registration / 7:30 PM Class Start
This Class will be ONLINE ONLY!
Join the class LIVE on Monday 9/19 at 7:30 PM
Or watch the class replay.
Are You an Empath?
em·path
A person with the paranormal ability to apprehend the mental or emotional state of another individual.
Being an empath has incredible benefits: greater intuition, compassion, creativity and a deeper connection to other people. But this state of high sensitivity also comes with its own challenges and necessary techniques for survival.
In this class SarahSpiritual discusses…
How to shield your energy and not let other people's energy impact you. Learn tips to remain protected while out in the world.
Learn to cut negative energy cords and past karmic entanglements with Archangel Michael's Sword.
Survival strategies for empaths
The importance of intuition to an empath
How to determine whether you're an empath: the difference between having empathy, being a highly sensitive person & being a true empath.
The top 10 traits of an empath
The different types of empaths: emotional physical/medical, intuitive, plant, animal, earth and more
Empath Energy Healing for others and for self-care
What roles & jobs are best suited for empaths
Sarah teaches how empaths can thrive
SPECIAL PRICING!
ATTEND FOR ONLY $13!!
THIS CLASS WILL BE VIDEO CONFERENCED
LIVE ONLINE ONLY
WITH FULL LIVE CLASS PARTICIPATION
Join the class LIVE on Monday 9/19 at 7:30 PM
Or watch the class replay
ATTEND FROM ANYWHERE!
Phone teleconferencing also available.
The day before or the day of the class you will receive the information/link to connect to the video conference. If you do not receive the video information by the afternoon of the class, please send a note to [email protected] or text 914.456.0266
Details
Date:

September 19, 2022

Time:

7:30 PM - 9:30 PM

EDT

Cost:

$13

Event Category:

Event Tags: